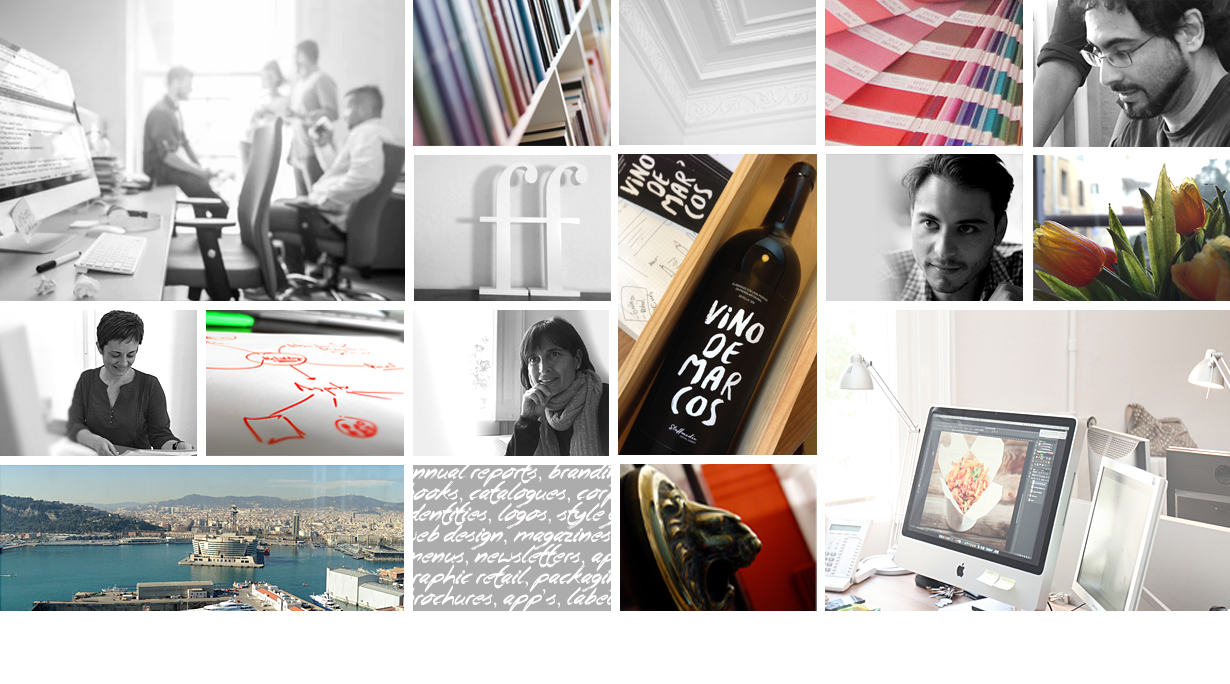 Our main objective is to help generate emotional links between the brand, the product, the client and the target.
USER-FOCUSED CREATIVITY
We listen, understand, and consolidate the needs of our clients.


Staffmedia is a design agency that has evolved into a digital agency offering comprehensive graphic communication in the past 20 years. Our clear vision and feasible goals generate emotional connections between the brand, product, and user, setting us apart from the competition.
Our multidisciplinary team of graphic and industrial designers, business analysts, marketers, and programmers allows us to develop work processes from different angles to obtain high-level results. At Staffmedia, we always aim for a win-win: if our clients grow, we do too.
Our work methodology is based on creativity, innovation, and professionalism. We offer tailor-made comprehensive solutions for each of our clients, using the latest available technologies and tools. We ensure that each project is unique and effectively communicates the brand values.
At Staffmedia, we understand that effective communication is the key to success in any project. We listen and understand the needs of our clients to provide them with the most suitable and personalized solutions for their business. We are a close-knit, committed, and passionate team, which is reflected in every project we undertake.
Creativity
Create is our passion, our main motivation. We always are searching for new challenges, creating stories, concepts and ideas that really matter to people and generate commitment to customer brand.
Web Development
We stand by our clients with excellent support and attention to every little detail.
Branding and Corporate Identity
We design Brands that connect with their target. We create new visual and verbal identities that resonate with consumers, always based on innovation and design. We develop all creative pieces and apply and normalize them in the corporate manual.
APPS & MOBILE
We create, develop, prototype and test applications for mobile devices, both for Android and IOS. Corporate, promotional, commercial, training, catalogue, social or sports apps, always with a clear focus on the user. For this we analyze the feasibility of the project, we add our experience and creativity to turn them into benchmarks.
Graphic Retail
We improve and manage the integrity of the brand in all its outlets, combining the style of each of them with their image. We create visual communication to all points of contact with the consumer. We like to study their behavior and create new experiences to increase brand engagement.
Packaging
Where those three seconds ahead of linear make the difference between choosing "our" pack or another. For us it is the ultimate expression of graphic design, which must be combined powerful image, differentiating, claim forms and innovation to the consumer to decide, and no longer speak if the sales channel is impulse ...
Analítica web & SEO/SEM
At Staffmedia we rely on web/app analytics with the help of SEMrush, Google Analytics, Google Serch Console and other tools to advise you on making strategic decisions for your communication. We work aligned with your marketing and communication department to define the objectives, identify the KPI's and implement a personalized implementation plan. Our goal is to maximize your ROI and achieve the success of your digital marketing campaigns.
Clients